Al fresco dining in the home has always been a thought and for that reason, wanting to have an outdoor kitchen for the home is truly understandable. More than that, nothing really beats outdoor cookouts with family and friends especially with the titillating aroma that only outdoor grills could give.
If you are wondering about what outdoor kitchen idea you can incorporate in your outdoor sheds, deck, or patios, you came to the right post because here, we shall narrow down some of the best outdoor kitchen ideas created with the help of real estate image editing in a range of design categories. So, without much ado, read on.
What are outdoor kitchens?
At best, an outdoor kitchen as the name suggests would be a furnished space outside the home where one could prepare and cook a meal. As such, an outdoor kitchen is expected to be loaded with cooking amenities that range but are not limited to grills, ovens, stove and cooktops, a pizza oven and more.
They are somewhat mistaken for a dirty kitchen but really, outdoor kitchens are literally a second kitchen that is situated outside the home and having one can come with notable perks:
Energy efficient (since you no longer need to run the exhaust, put on the AC and more).
All questionable smells from food items are easily flushed.
It also functions as an entertaining area for friends and family to convene.
It can be an extended dining hall during larger soirees.
Cleaning up is made easier.
It lessens movement in and out of the house during events.
43 outdoor kitchen ideas
The design potential of an outdoor kitchen is limitless, and this list of outdoor kitchen ideas would prove that. In this section, some of the most notable outdoor kitchen ideas across categories (in terms of aesthetic appeal, materials, amenities, and function) are presented so, sift through the list, and find the one that is best for you.
Covered outdoor kitchen ideas
Prioritizing shade for an outdoor kitchen is understandable especially for sunny locations. The effect of covered kitchens is also stunning because it accentuates the outdoor kitchen as a standalone structure in the property.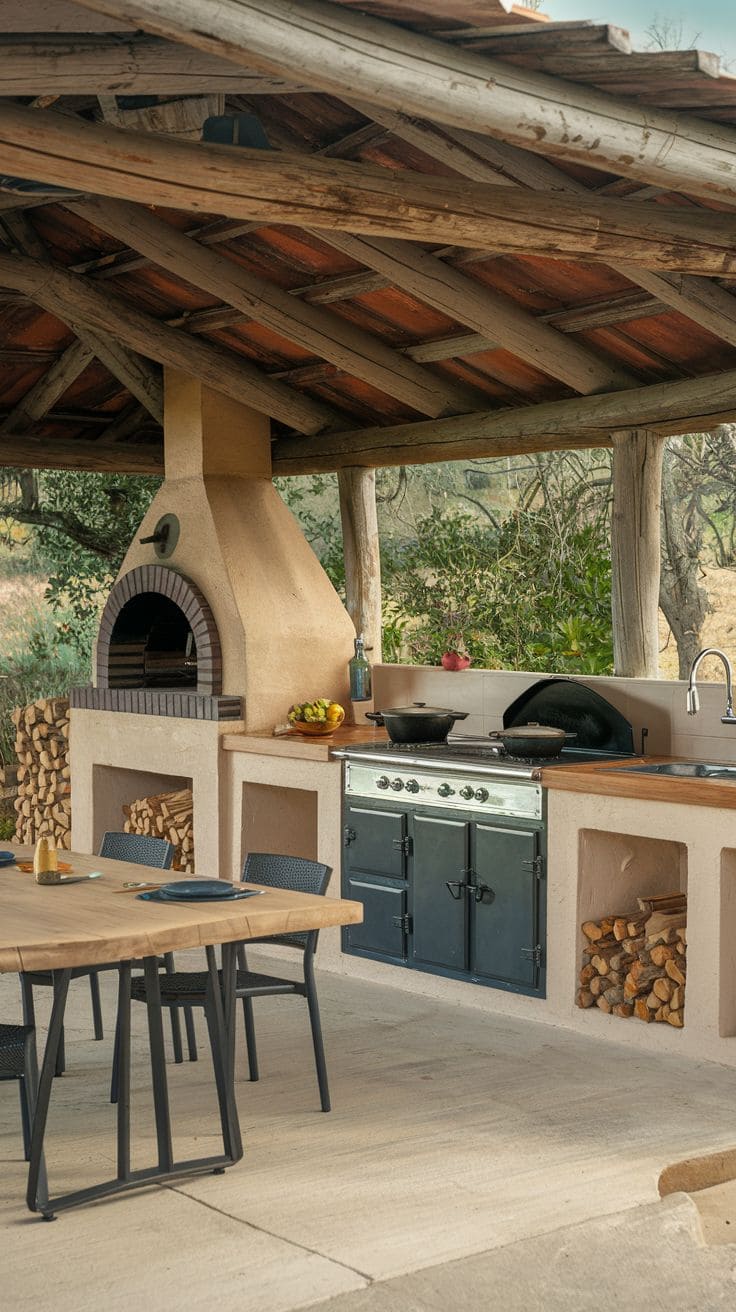 Wood always exudes a different touch when it comes to pergolas and other cover types. In here, this chef grade kitchen is made posher and more upscale by its slatted wood shade and the effect of warm recessed lights.
The rustic touch of this outdoor kitchen complements the wood cover very much.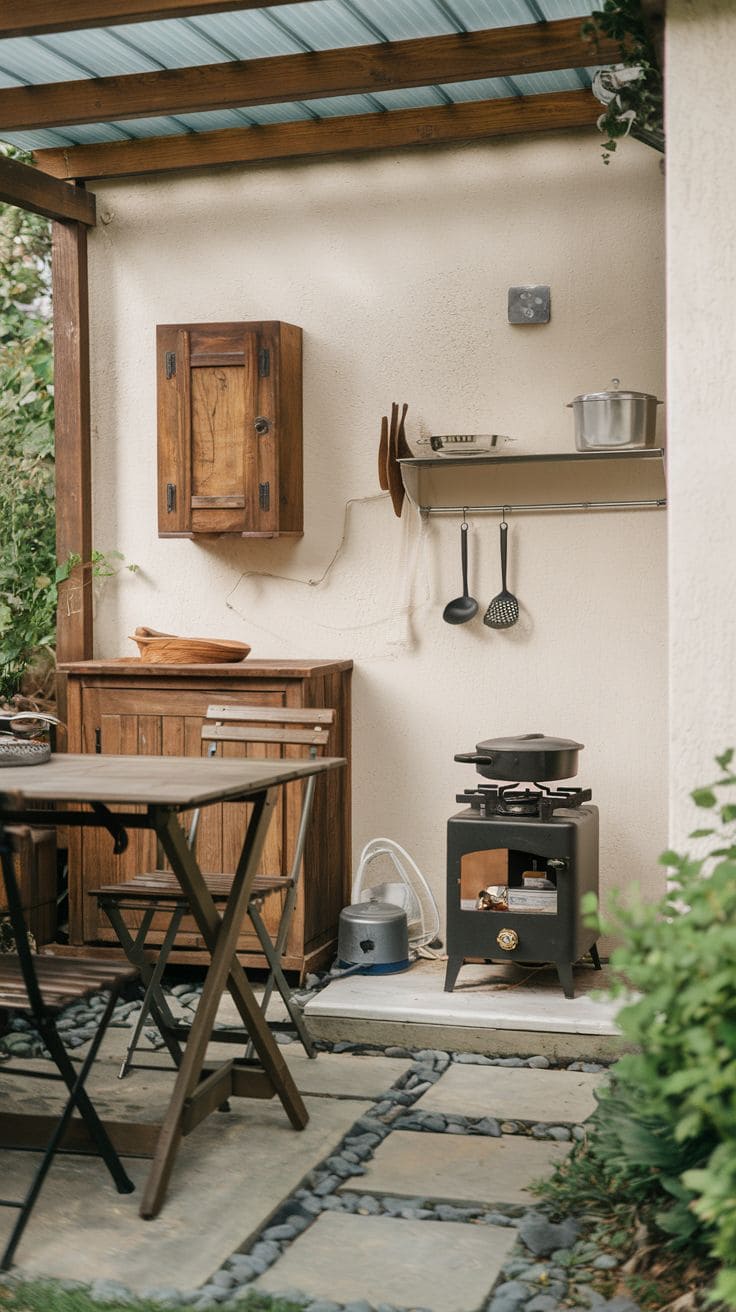 And if you want a more neutral look, you can go for this contemporary style, metal pergola with fiberglass panes.
It is an upscale outdoor kitchen with state of the art with a central grill, an oven, marble countertop with built-in stove, stainless steel cabinetry and ref on a contrast of light toned dining set and an adjacent seating.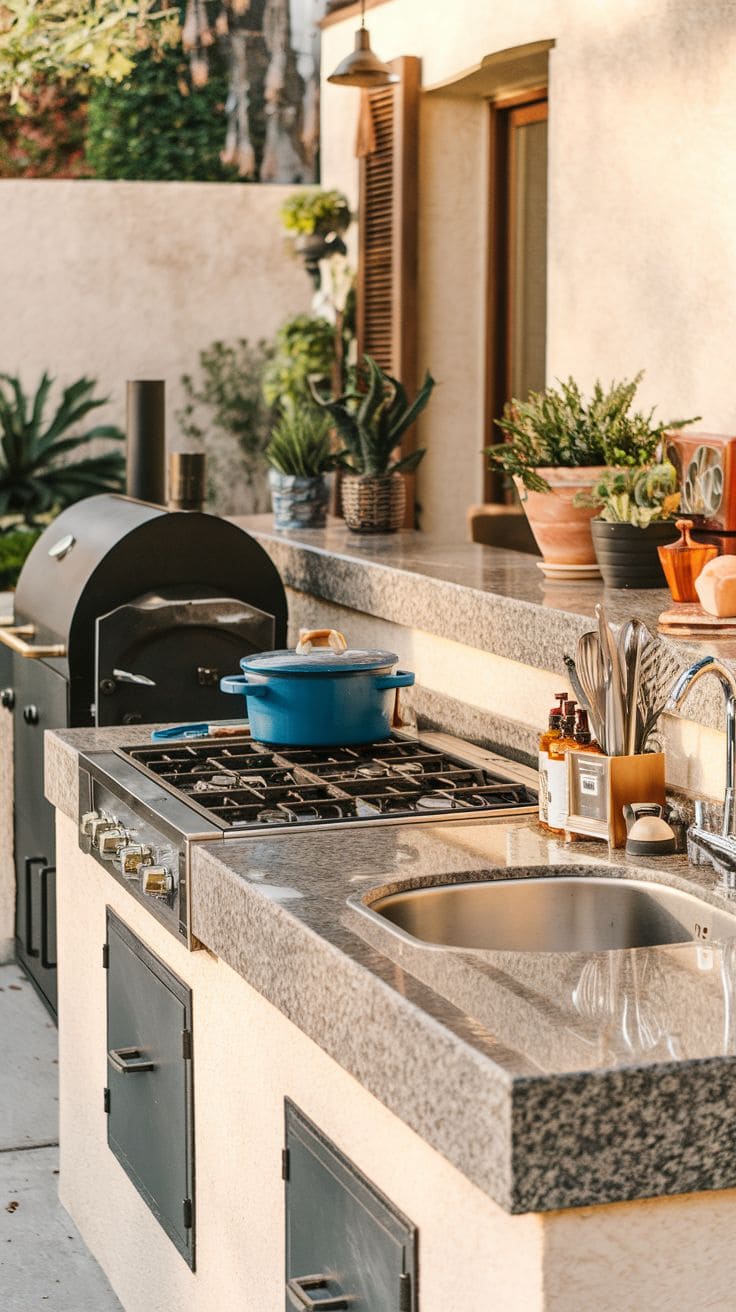 Concrete covers are also a fine choice especially in protecting cooking equipment from harsh outdoor elements.
Knowing that you have a durable cover also gives you more liberty to push for high-end kitchen appliances like a wine refrigerator, TV, and others and in arranging a dining area where you are sheltered.
Small and simple outdoor kitchen ideas
Sometimes, the most low-key outdoor kitchen designs could be more stunning than those that are over the top. If you are more into the compact, simple outdoor kitchens, you can consider these ideas at hand.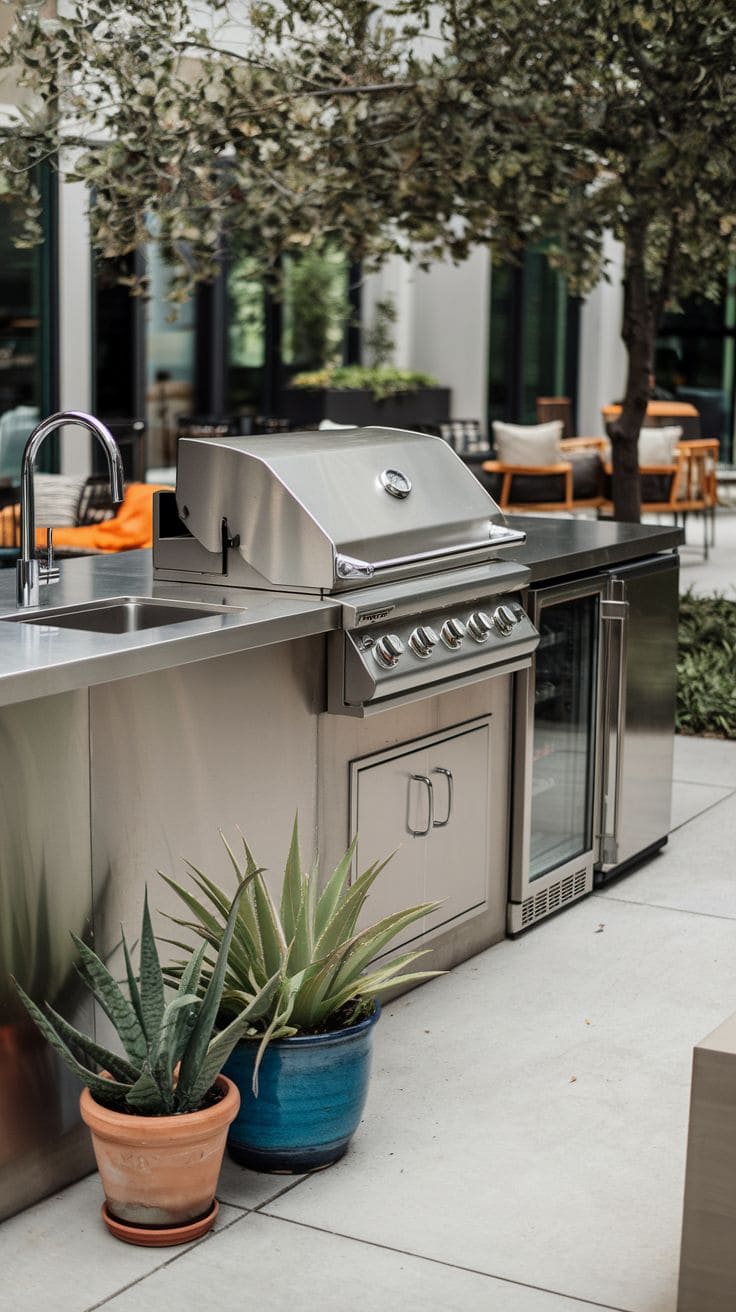 This one here features a stone stacked countertop complete with a stone sink, and built-in stainless-steel ref, warmer, and oven. An adjacent island counter acts as a service station but overall, the distressed, natural look makes up for its compact appearance.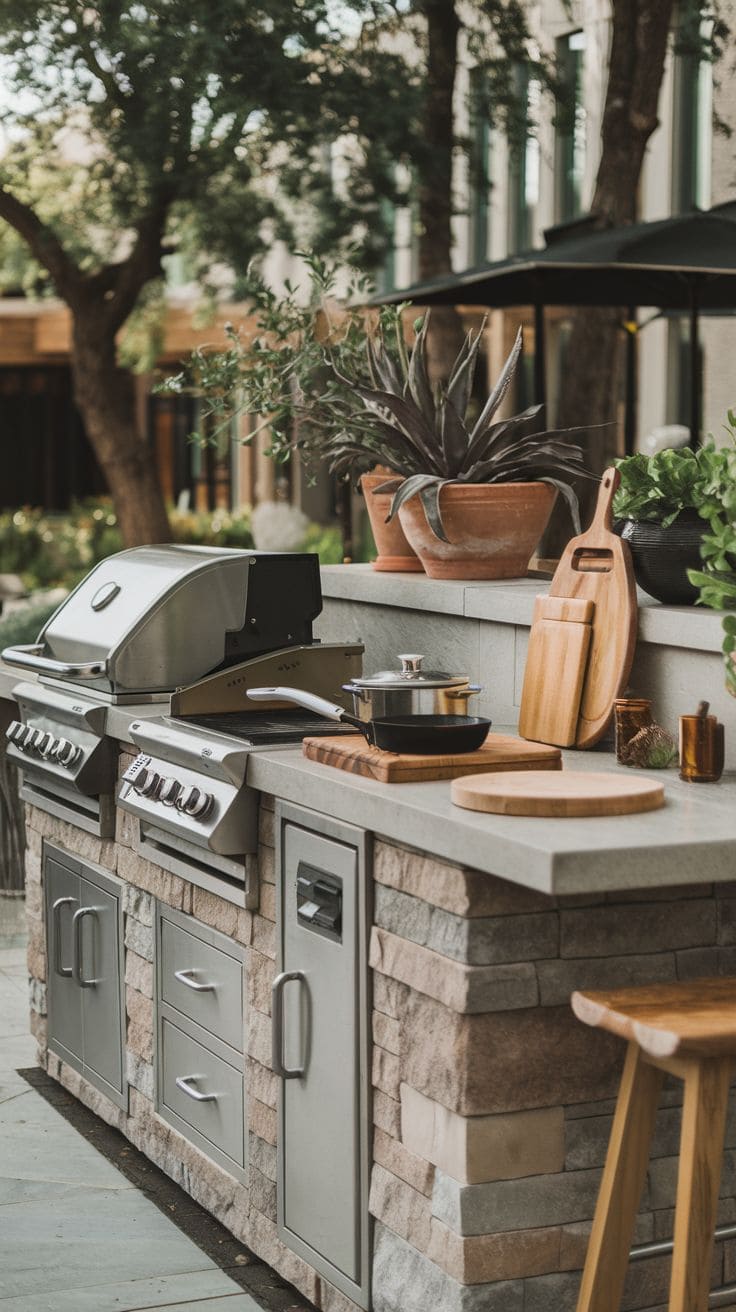 Here is another small, patio outdoor kitchen which you can consider. It is a free-standing workstation with a multifunctional L-shaped, limestone countertop. You can find the grill and shelves on one end while stools are arranged at a safe distance.
Outdoor kitchen countertop ideas
Believe it or not but the built and materials used in kitchen countertops determine the overall design scheme of a kitchen.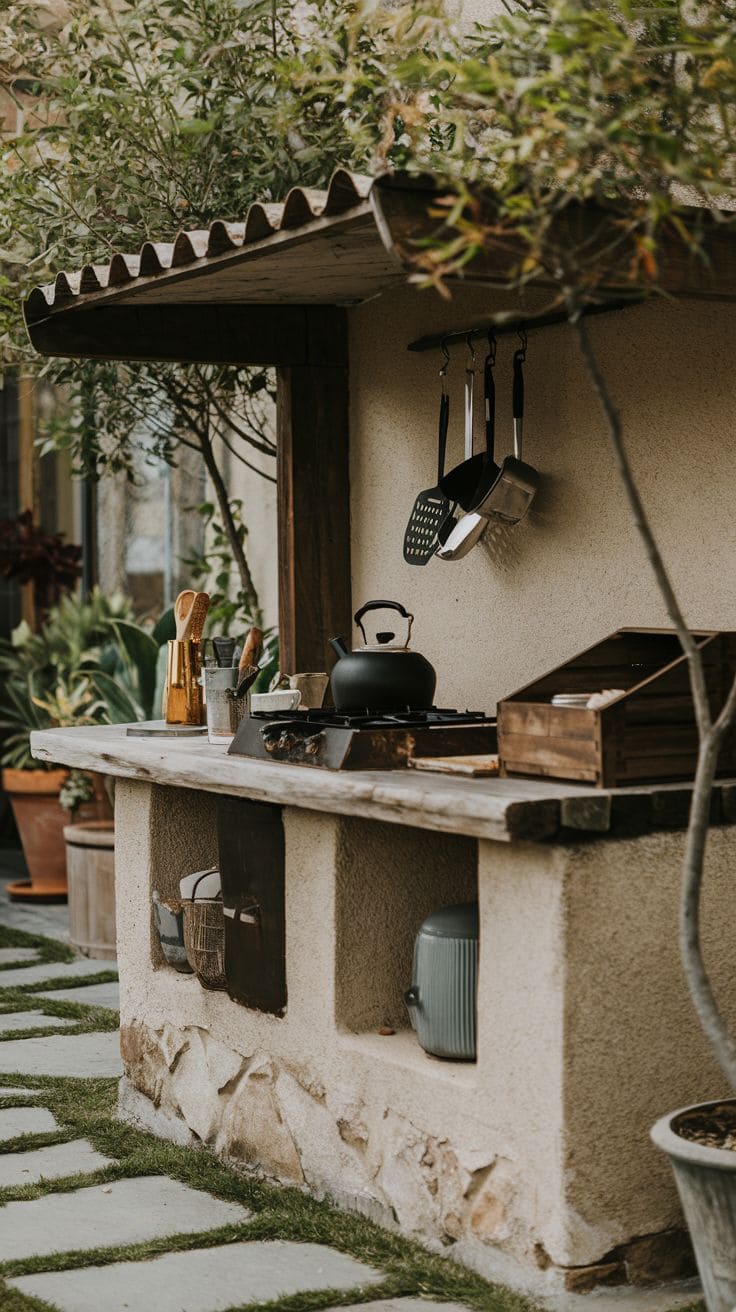 For one, if you want a simple workstation with a modern, rustic appearance, this granite countertop framed on more rugged stacked stone pillars gives you a compelling view albeit the compactness of the space.
Natural stone countertops are durable, heat resistant and low maintenance.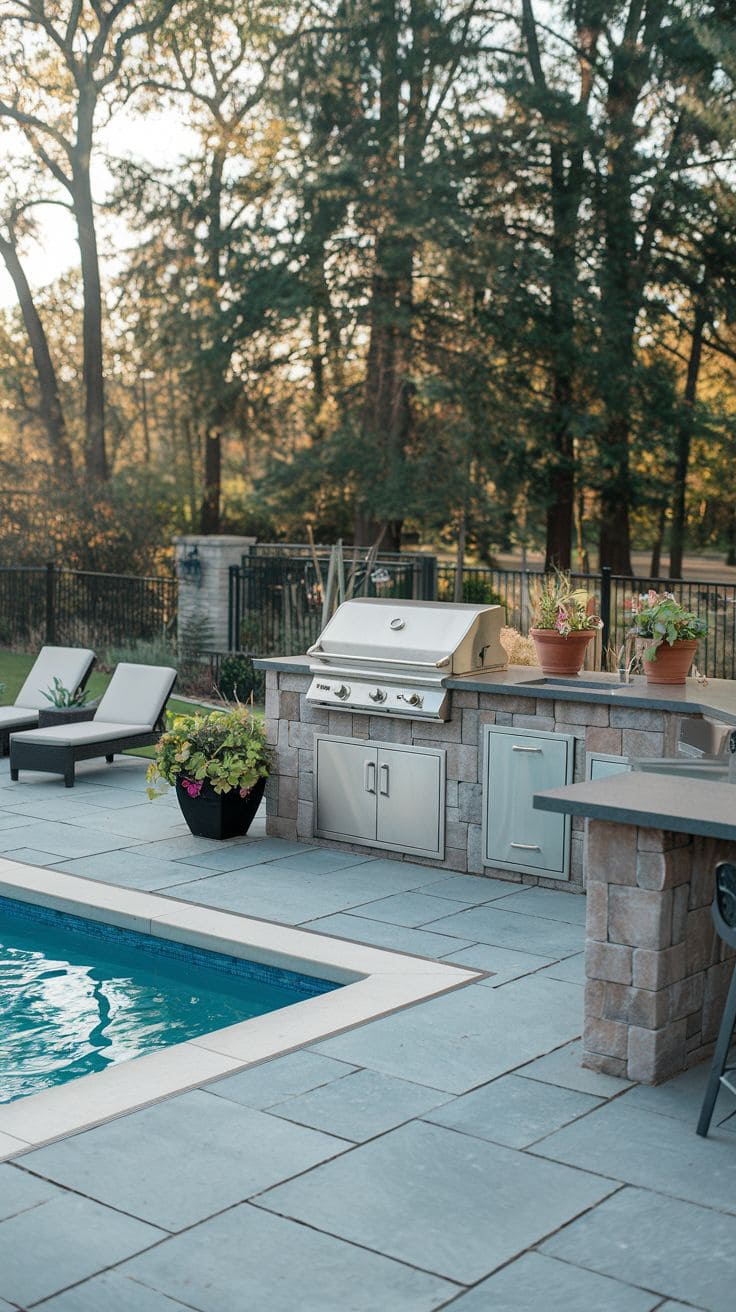 And if you want to maximize a compact outdoor kitchen space, this side marble countertop here is connected to the wooden sidewall of this Santa Monica home.
It extends along the length of the side wall, and it features a gas grill in the middle. Just add some stools on both ends and you already have a functional countertop service station.
Modern outdoor kitchen ideas
When we talk about modern styles, we are looking at deluxe, clean lines, perfect symmetries, and minimalism. Outdoor kitchens could be built around a modern style if you are into monochrome tones and compact cook stations.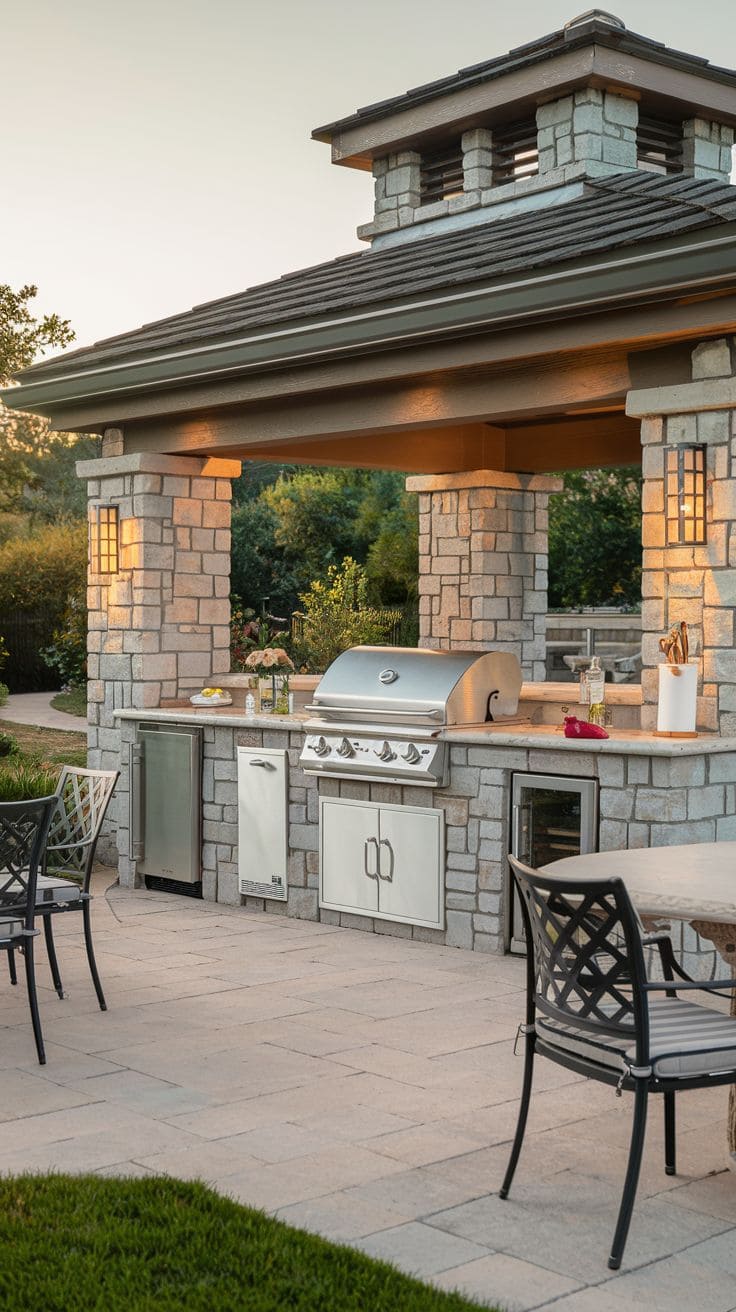 This box type outdoor kitchen here is everything you need for an everyday cookout with friends and even for just some needed "me" time.
It features a marble countertop with bar tap, built-in oven along the hardwood cabinets and shelves. This is a simple way to have a modern al fresco dining anytime.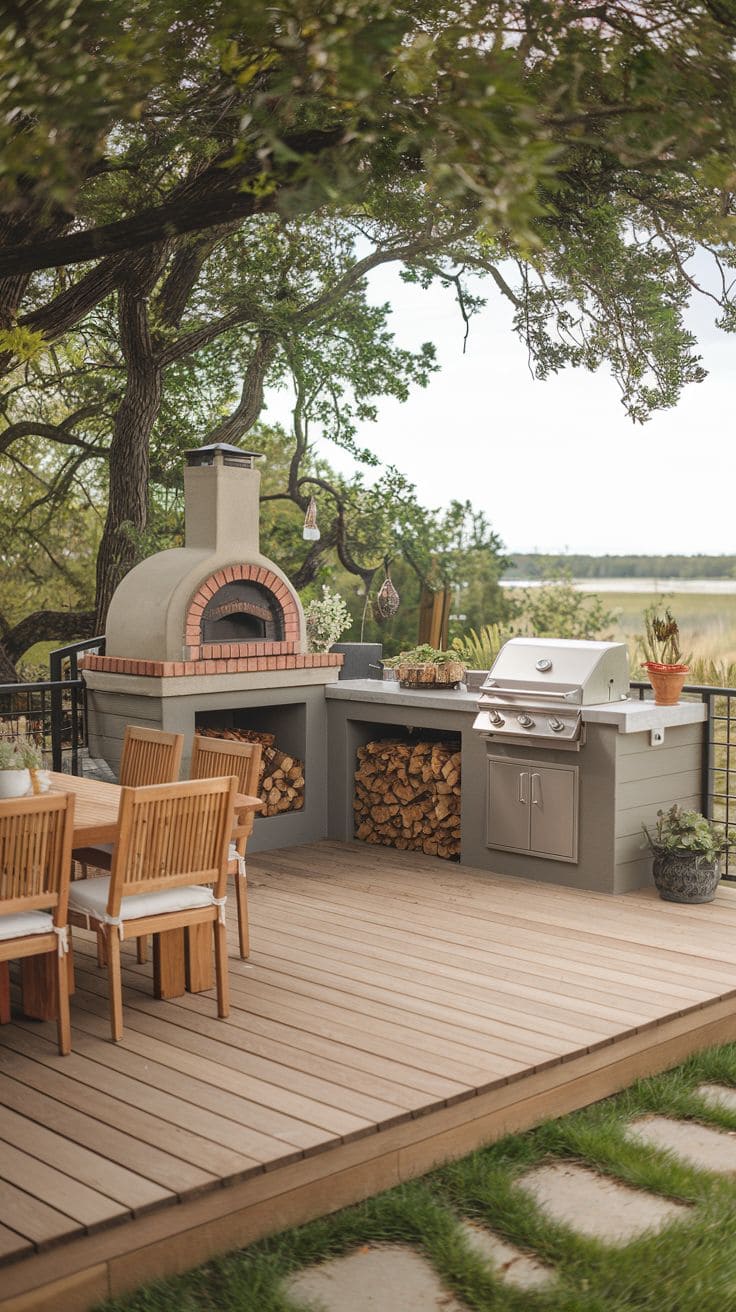 Here is another spot on modern outdoor kitchen featuring sleek, wood cabinetry, intricate shelving, and brushed steel cooking equipment.
The side grill is plush, the two-door refrigerator in the middle is a fine touch and the polished marble countertop along with modern design faucet and handles make this one the ultimate, modern urban outdoor kitchen look.
Outdoor kitchen bar ideas
Having a beverage bar around the outdoor kitchen is a masterful touch in lessening movement to and from the house every time someone wants to have another drink. For this reason, you need to add space for a wine refrigerator, ice makers and built-in coolers around your outdoor kitchen.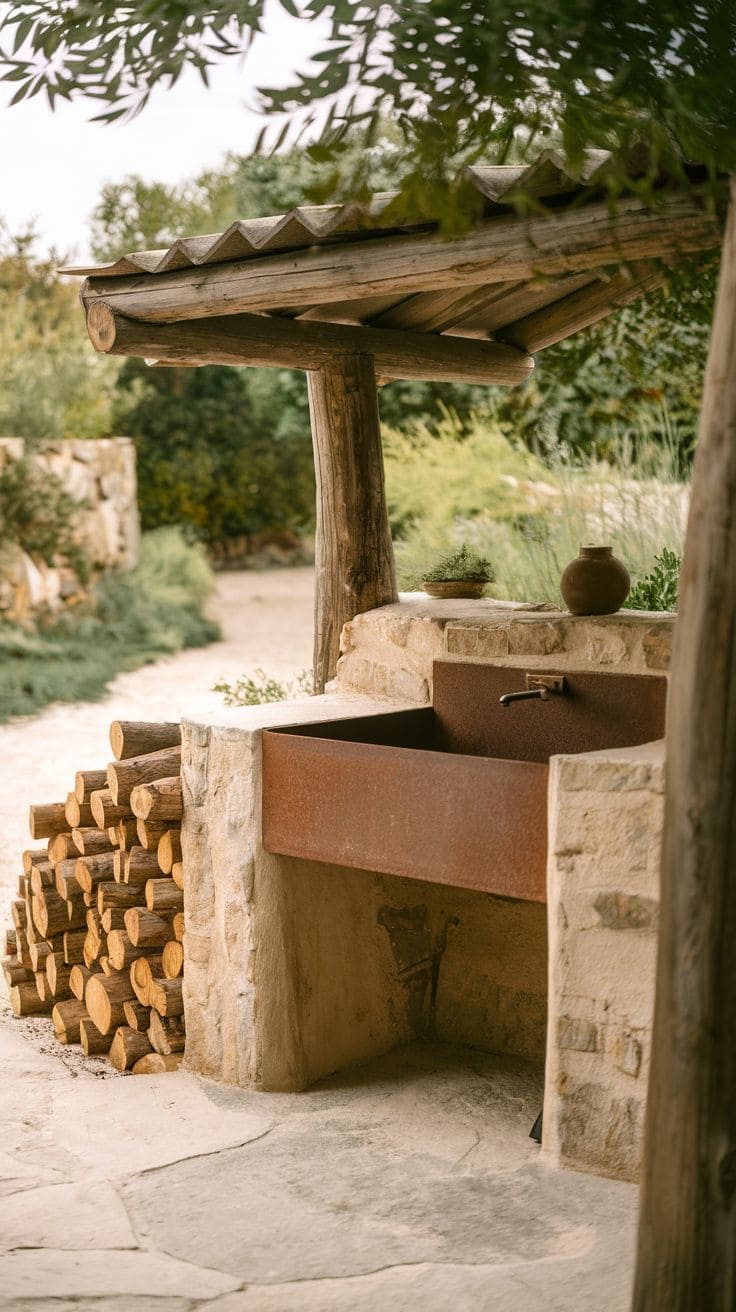 This one here is an open-standing outdoor workstation featuring an open gas grill, stainless steel storage on both sides of the stacked stone frame and a built-in open cooler slash sink where you could dench the drinks in ice. You do not need to go big for an outdoor kitchen bar idea to work.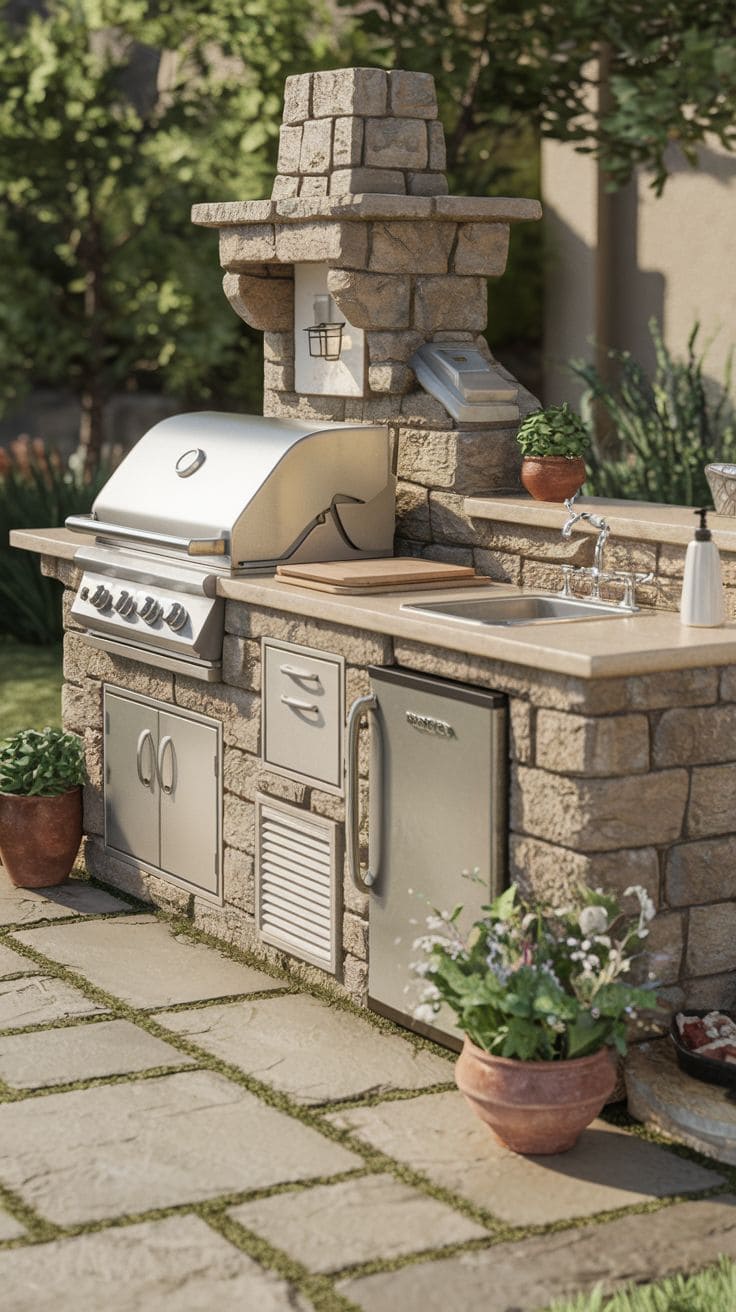 For an industrial and modern touch to your outdoor kitchen bar, you can draw inspiration from this urban, outdoor space.
It is easy to get distracted with the bright lights but when you narrow the elements down, you have a U-shaped countertop, a backsplash of winery and stacked booze, espresso machines on one side, and a grill and stove top on the other end.
Rustic outdoor kitchen ideas
By default, rustic design schemes are characterized by strong natural colors and the contrast of wood, natural stones, and sometimes metal.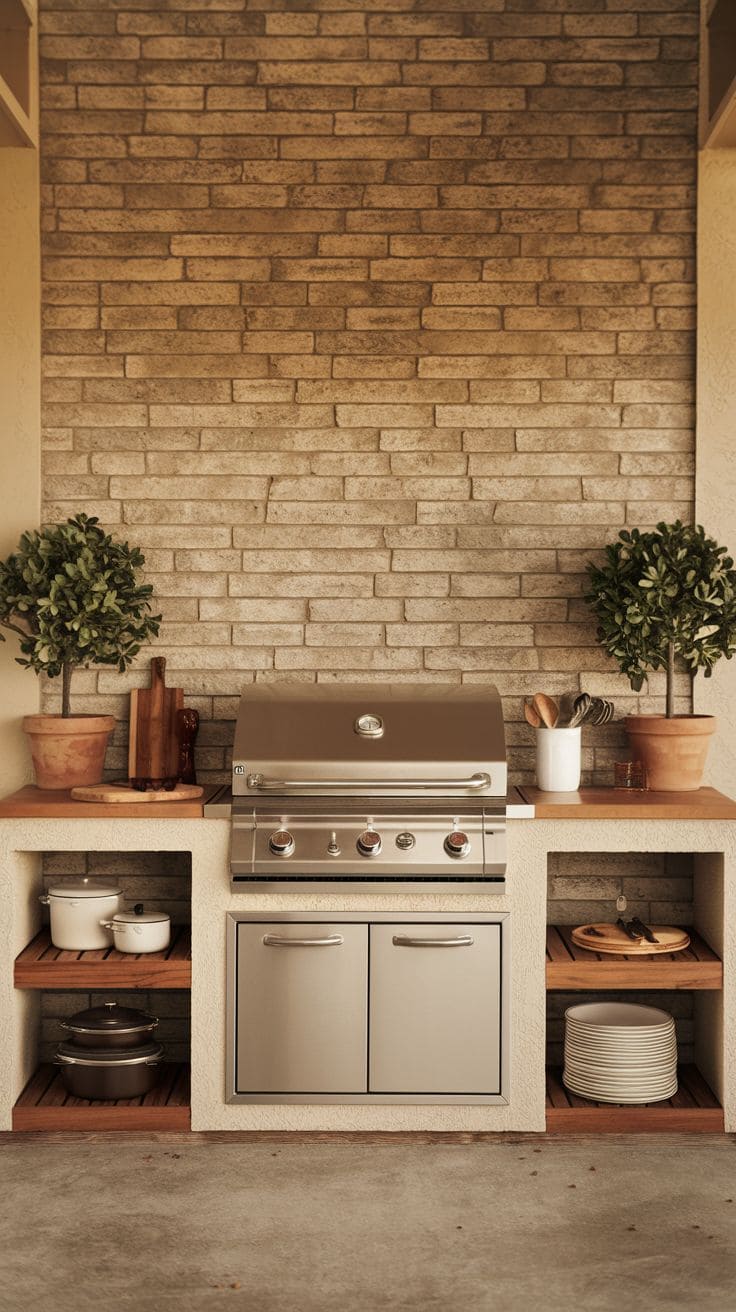 A rustic outdoor kitchen could transport you into a lodge or cabin home. Complementing the openness of this woodsy property would be this outdoor kitchen made of natural stones.
The exposed beams of the wooden roof make it grander. The neat workstation, TV and fireplace plus the chef grade amenities make it more upscale.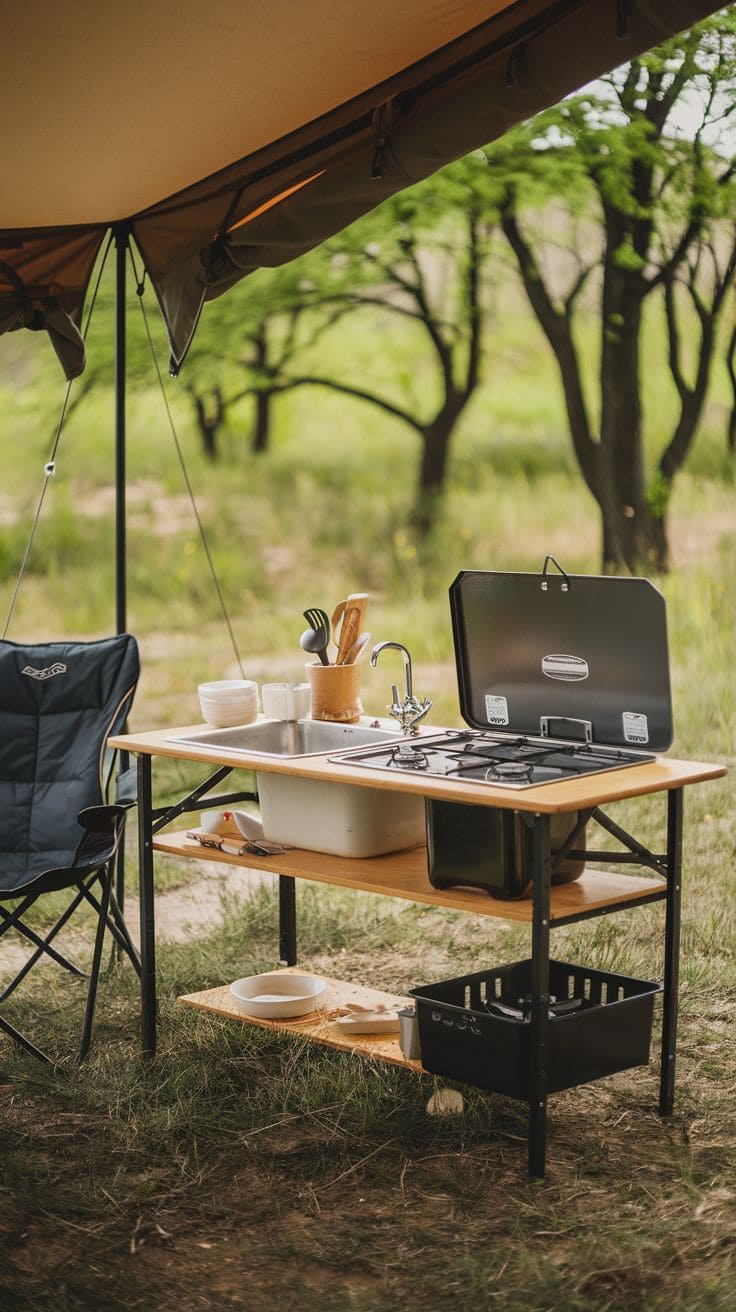 And if you want to go unconventional, you can build a secret kitchen where the cooking happens. Surround it with seating, a dining set, a fireplace, and a stone, gas grill on the side along with wood pergola and warm lighting and you are all set for that all-out rustic tone.
Outdoor kitchen ideas with pool
If you want to splurge on your very own home cabana, positioning your outdoor kitchen on the poolside would be a great idea. Water features such as pools soften stone and concrete structures, and it would transport you to an east coast vibe.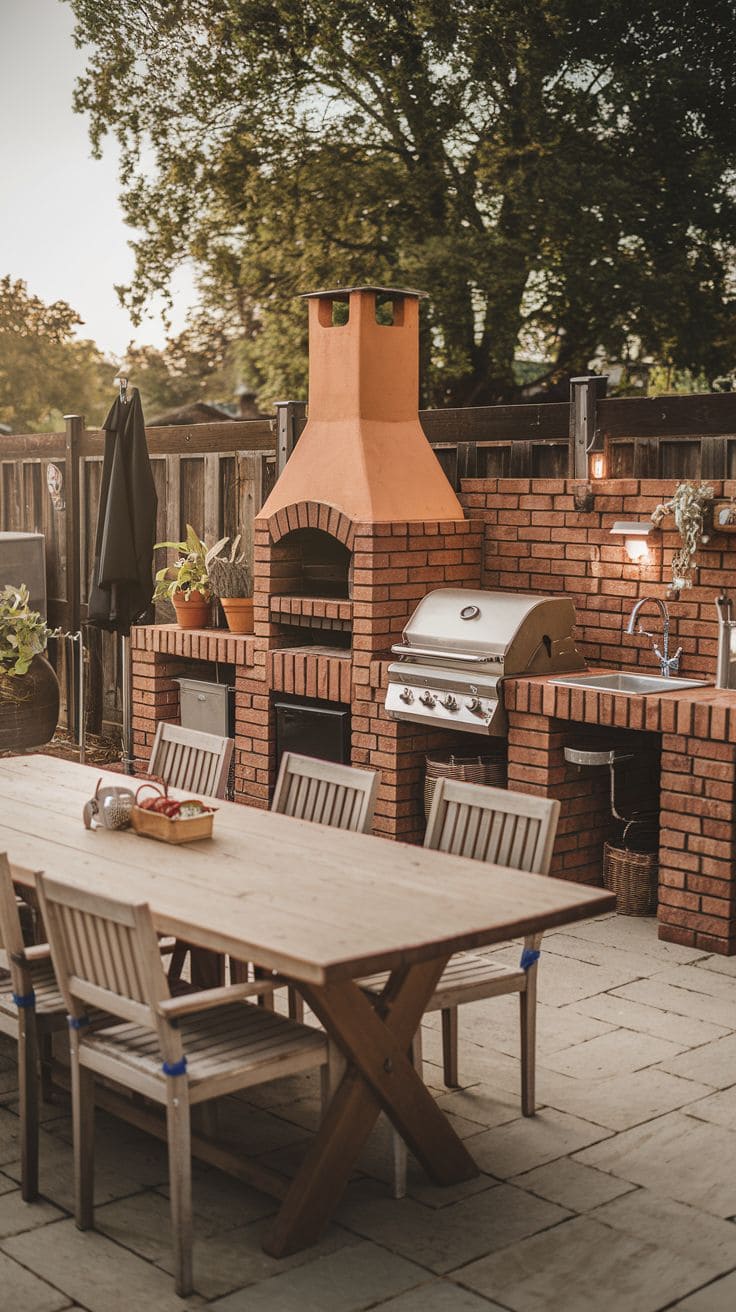 For one, you can go for a free-standing pergola shaded outdoor kitchen and bar adjacent to the pool seating. It keeps everything within reach, and the open bar and TV entertainment give a well-distributed fun time to all that are in the area.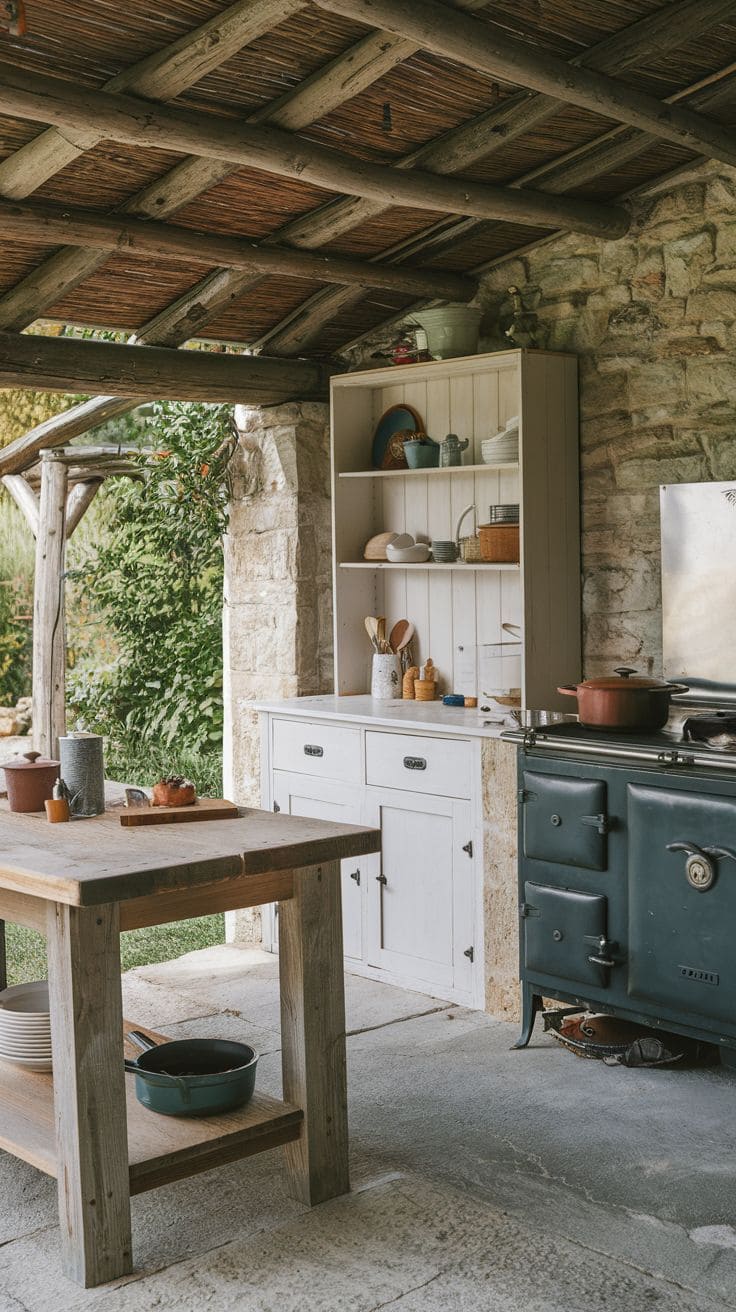 For a more sophisticated and posh appeal, you can build a covered patio outdoor kitchen and dining area by the pool like this one here. The entire look is serene, well-balanced, and elegant at best.
The fireplace complemented with intimate seating on one end, the built-in bar in the middle, and the kitchen counter on another end provide an upscale symmetry. The open grill outside is also inviting.
Outdoor BBQ kitchen ideas
Gone are the days when BBQs are done in a standalone outdoor grill and makeshift seating. You can now have a full outdoor BBQ kitchen with a cooking space that could rival any indoor kitchen setup.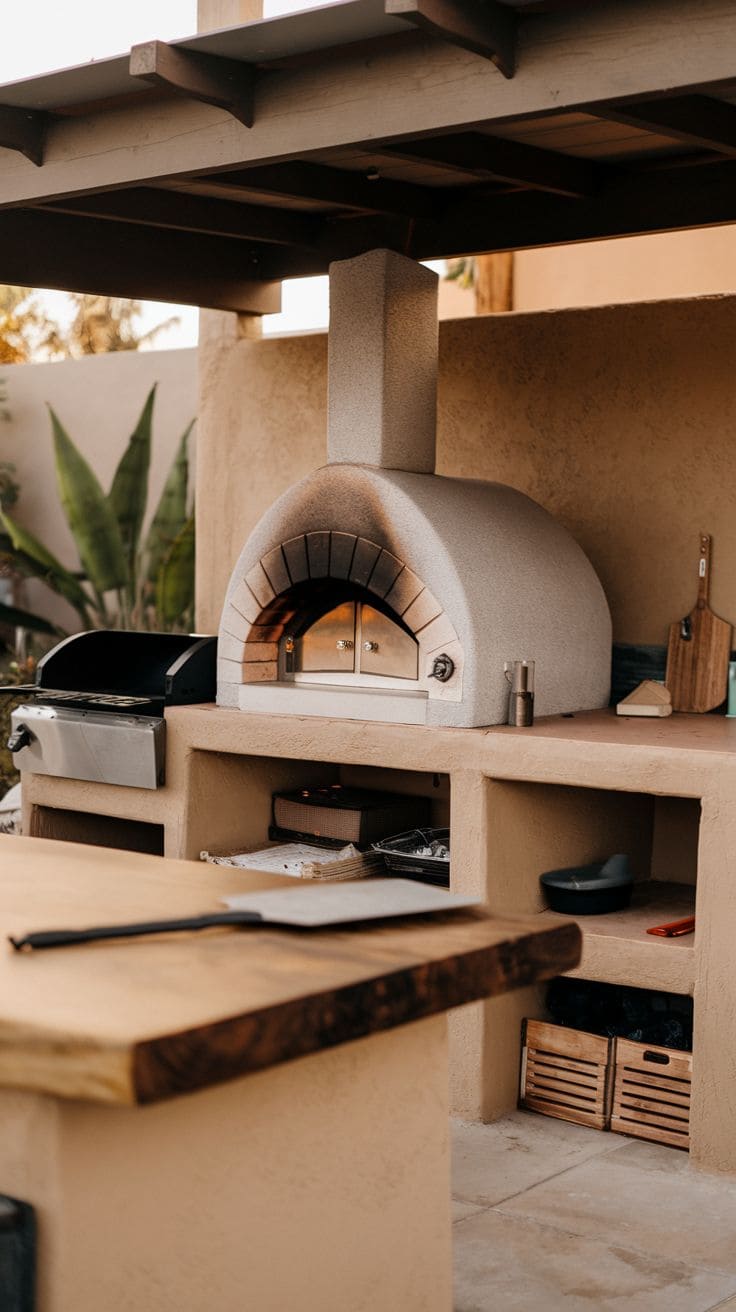 This outdoor BBQ kitchen here features a neat, well-lined, and architecturally balanced set-up. The use of marble slabs for the countertop and natural stone workstation makes it durable enough to stand heat.
The BBQ grill, oven, built-in refrigerator, wine cooler, and storage look uniform in their stainless-steel finish. The streamline style cook station also makes everything within reach.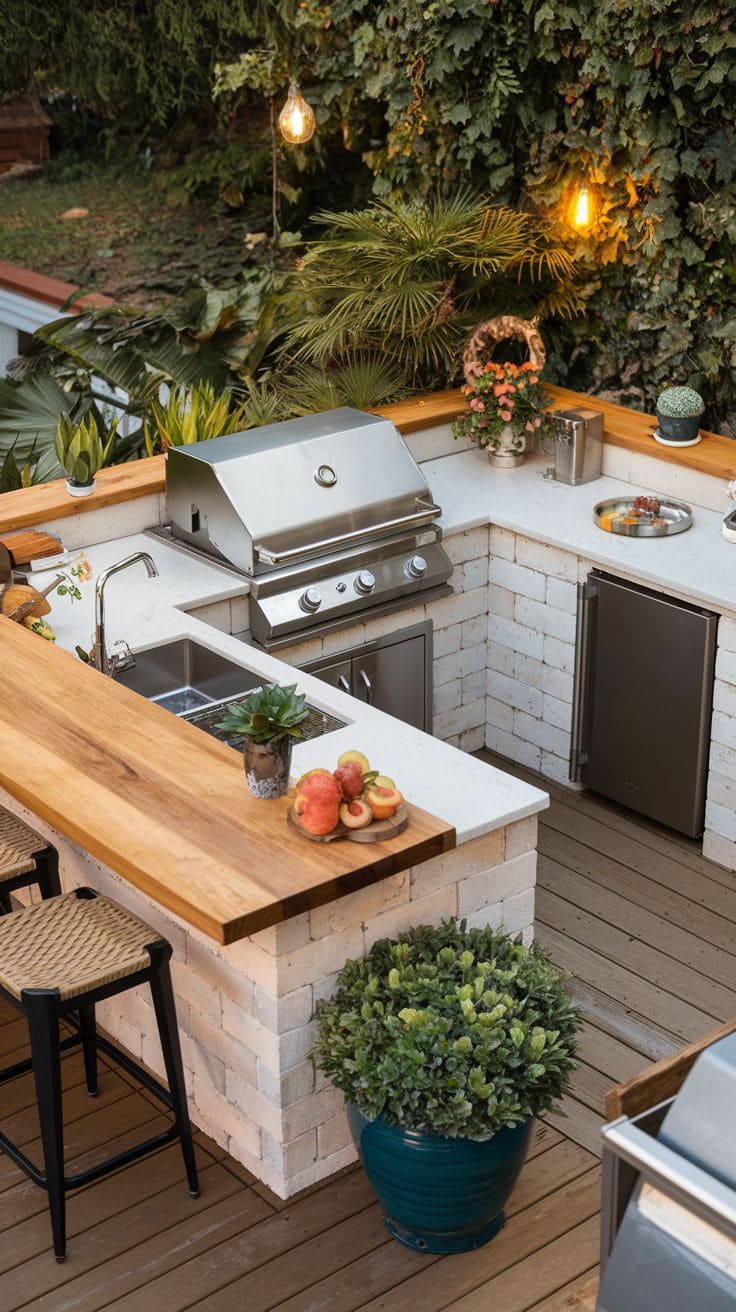 For a more earthy, simple, and very rustic outback look, the use of wood and corrugated metal to create a free-standing outdoor BBQ kitchen is a prime choice.
This one here features just that and its multi-sectioned open partitions give it an airy disheveled look. The corrugated metal wall has hooks in it for the cooking materials.
Related: 25+ Best Backyard Grill Station Ideas and Designs
Outdoor deck kitchen ideas
The main purpose of an outdoor deck is to extend the entertainment space of the home. What better way is there to convene a bunch than around good food, drinks, and merriment right?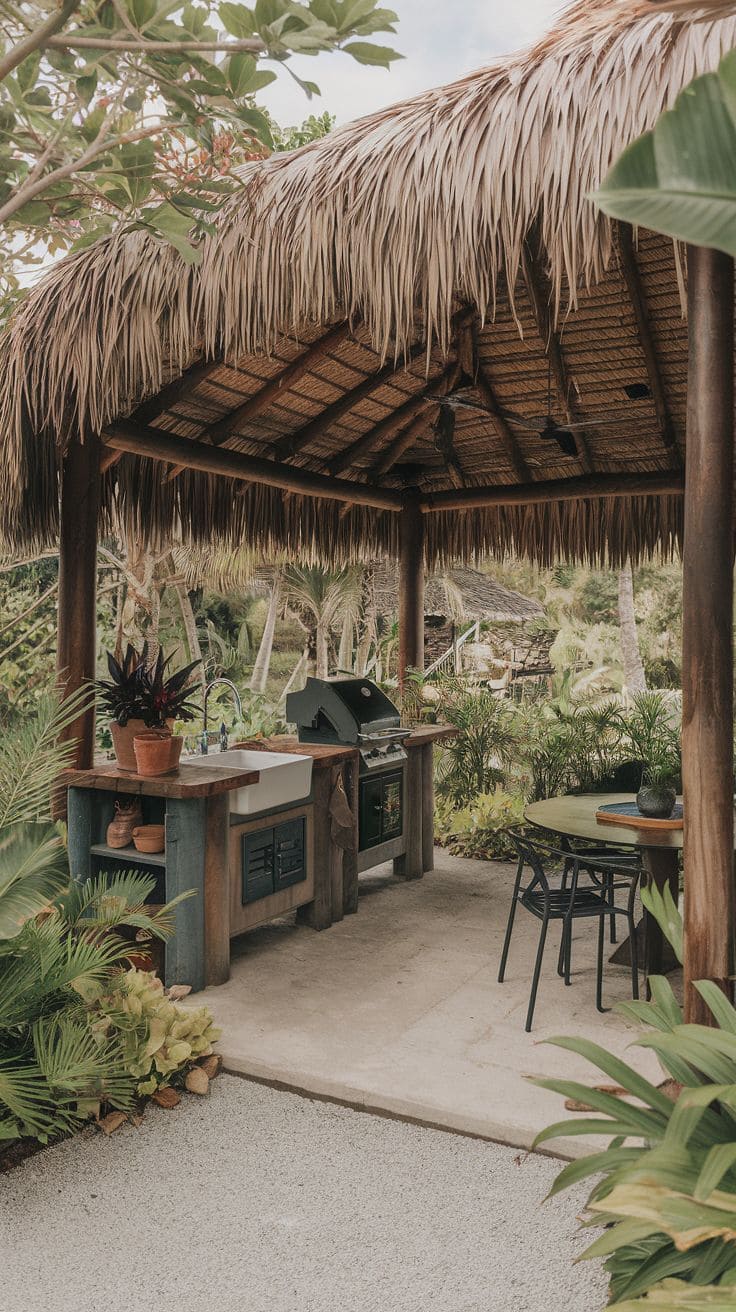 This one is intended for the home to have an added large space composing of an outdoor kitchen and an adjacent dining and seating set.
The warm tones and complementing materials of wood and stone along with wicker furniture and built-in stainless-steel oven, grill, and mini refrigerator as well as a TV and central fireplace enrich the warm and cozy vibe of this decked outdoor kitchen.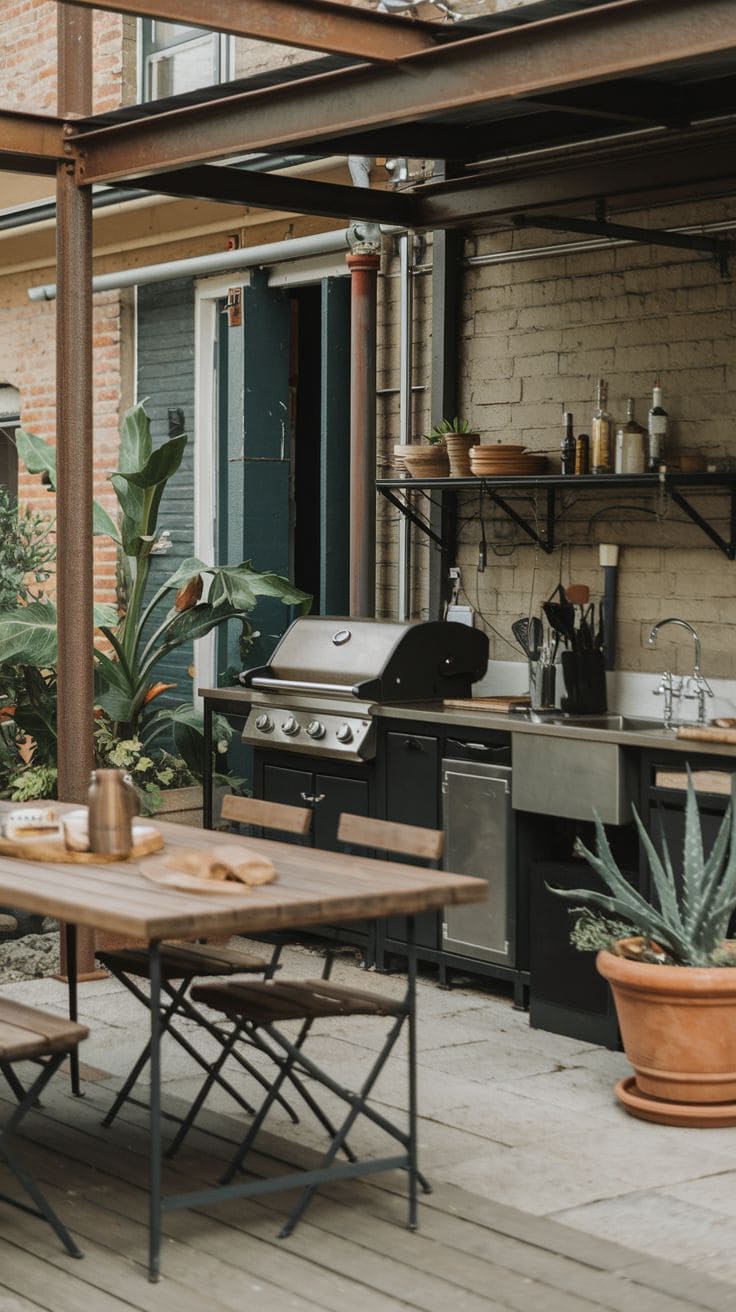 Concrete decks are not very common because they are harder to construct and are more expensive to build. But this outdoor deck kitchen here proves why it should be considered more often.
The polished concrete deck commands durability and a powerful view in an outdoor façade of greens like this one. The posh stone cook station built on granite and concrete with built-in amenities also sport a high-end outdoor kitchen splurge.
Related:
Outdoor kitchen sink ideas
A well-positioned sink in the island counter or even a standalone one can offer wonders to an outdoor kitchen. As an essential element to kitchens, it must be accessible and versatile to keep up with the demands of a busy outdoor kitchen.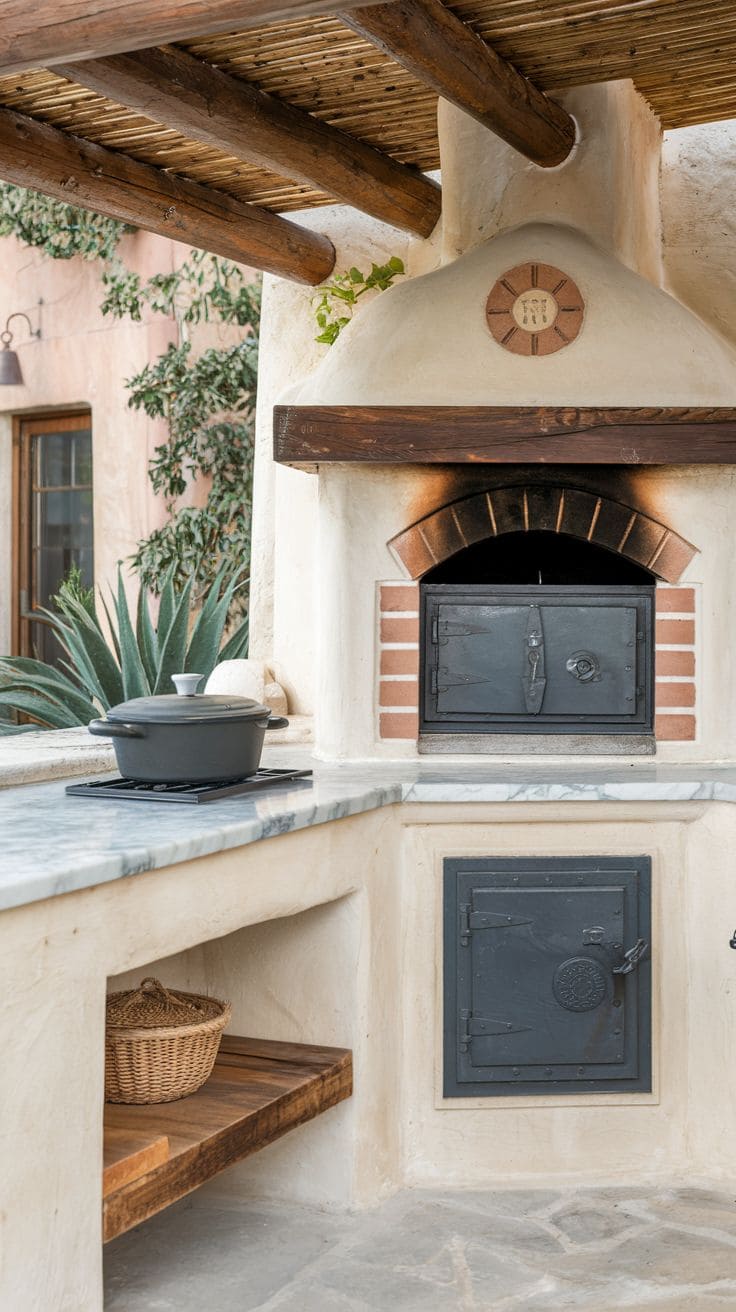 You can make a free-standing sink on one corner of the outdoor kitchen. Having an open space where you could wash hands or clean food items to be cooked without touching elbows with the master griller or the cook is an underrated convenience in any kitchen setting.
To redefine accessibility and style in your outdoor kitchen, you can draw inspiration from this modular outdoor kitchen design where everything can be done with enough space.
The raised sink style and the industrial faucet on a backdrop of simple concrete slab wall make an industrial outdoor kitchen for the ages.
Related: 28+ Best Farmhouse Kitchen Sink Ideas & Designs
Stone outdoor kitchen ideas
We all love stone because of its extreme durability and versatility as a design material. It could evoke different vibes depending on how it is stacked, the stone used and the natural colors they have.
This corner outdoor kitchen is entirely made of natural stones, from flooring to enclosure as well as the counter and the fireplace. It offers a warm, European vibe to this medium sized San Francisco property.
With some flushes of wood warmth and white accents, it creates a cozy and timeless appeal for this outdoor kitchen.
For a more compelling look, the use of large stone slabs stacked together shown here by this highland stone outdoor kitchen is proven to be a good choice for more character and appeal.
The uniform stacking pattern of the stone slabs from the columns, frame, countertop, and stone oven give it a village look and the pinewood ceiling softens everything in a warm effect.
Florida outdoor kitchen ideas
When it comes to Florida, Arizona, and other parts of the Midwest, outdoor kitchens are bound by common materials and that would be polished stone, slabs, or concrete. These materials prove to be durable materials given the heat, humidity, and aridness of some locations like Florida.
This stained cobblestone outdoor kitchen is perfect for the tropical vibe of Florida during spring and late summer. With the right lighting, and the use of brushed stainless steel, you can set the tone of a cozy outdoor kitchen easily.
The temporary outdoor umbrellas and the circular island counter adds to the high-end, polished look of this outdoor kitchen.
Here is another stone yard style outdoor kitchen for you to draw ideas on for your Florida home.
Outdoor camping kitchen ideas
If you ever find yourself into glamping or camping, you need not worry about having an outdoor kitchen because there are always chuck boxes for you to work on.
Here is a simple portable breakfast box which uses cedarwood. It is durable enough to be taken for hiking and stable enough to hold in your portable skillet, water, and other food items.
If you are RV camping, you can also customize an expedition galley. This one here is framed with hardwood and opens into a lightweight stone countertop. It is ergonomically equipped with a built-in burner, storage drawers on all sides and a built-in makeshift sink at the edge.
And suppose you still have ample space in the RV, trailer, or truck, you can customize a portable, outdoor kitchen like this one.
In an ingenious and creative way, there is a simple metal sink on one side, a built-in mini grill on the other end and a wide-open shelf at the bottom.
It also has a solid granite countertop that is made for free cutting even without a chopping board.
Brick outdoor kitchen ideas
Brick kitchens exude a timeless appeal. It can be felt as industrial, contemporary, or simply raw and rustic. There is something naturally warm and homey about brick kitchens and they never disappoint whatever the setup.
If you are contemplating on putting up an outdoor porch kitchen, this is a good idea to draw from. It uses reclaimed brick flooring and extends the material to create a countertop brick frame.
It features a central gas grill, an oven on the side and a sleek, polished, black marble countertop and a sink at the end. It is warm, airy, and perfect for Houston summers.
For an all-brick façade, this Louisiana home used the back porch as the location of their reclaimed brick outdoor kitchen. A corner grill, sink and countertop extend through the side wall and then the whole area is sectioned in different spaces.
The marble countertop island is for the service station and open bar and the function of the porch is not undermined with these woven rattan seating.
Country outdoor kitchen ideas
The best thing about country design schemes is that you can always veer away from the traditional neutral warm tones and invest into a more trendy, colorful palette that would still exude warmth.
This Southern home transformed the patio and breezeway into a raw and shabby farmhouse outdoor kitchen. The stone walls are perfectly lined, and the blue cabinets enliven the space.
It features a grill, a countertop and rattan seating. The exposed wood rafters add to its country look.
And if you want to add a more contemporary, lavish accent to your country outdoor kitchen, you can draw inspiration from this Southwestern home featuring an extended dining area and an adjacent fully furnished kitchen.
The exposed wood beams scream country and the textured stone flooring make it more stunning. The bar and entertainment area with a bar counter completes the look.
Outdoor kitchen ideas with pizza oven
Pizza ovens and fireplaces are essentials in an outdoor kitchen and for a lot of good reasons. Think of vineyards and the vibe of Tuscan outskirts plus the ultimate group food pizza and you would not want to go far away from your outdoor kitchen.
This one here is a complete outdoor kitchen as it features an old school brick pizza oven but with posher cooking equipment too.
This includes a warmer drawer, side burner, grill, smoker, refrigerator as well as a large island counter with built-in sink. That wood cover, enclosure and TV give you a good run for your money.
For a more raw, woodsy appeal for your outdoor kitchen with a pizza oven as its focal point, you can adopt this open, decked outdoor kitchen idea.
The whole space is enclosed in a stacked tone and the deck features a wood flooring. A central dining area is in the middle and it is surrounded by boho cushion seating and a large, old fashioned stone brick pizza oven.
U shaped outdoor kitchen ideas
Aesthetically, a U-shape layout provides an intimate enclosure fit for an outdoor kitchen. It also gives a lot of airy feels and a sophisticated vibe.
For one, this U-shaped brick outdoor kitchen gives a lot of English countryside tones. The in-ground fireplace offers a sleek touch.
The wood pergola offers a brighter contrast as it sets the warm lights on and shelters the cooking equipment in a streamline and compact cook station.
Here is another U-shaped outdoor kitchen with a bar that you would love for its modern and chic appeal. The white and mahogany contrast of the U-shaped countertop offers a plush cabana look appropriate for the woodsy vibe of the location.
The well-chiseled modular shelving and central electric grill, storage, and refrigerator also give an upscale look.
Tropical outdoor kitchen ideas
This one is such an underrated design scheme because it is often lined along coastal designs. But if you want a vacation vibe right in the confines of your yard, you can always go for tropical outdoor kitchens.
This large outdoor kitchen is situated in a Florida property with a marina view. It is a massive outdoor dining, decked with teakwood flooring, a shaded dining area, with distressed picnic tables and stools.
On the side would be an open grill space and a side workstation.
For a more earthy, down to earth, tropical vibe, this one here features reclaimed cypress shutters which were connected to form a countertop frame laid with black, polished, top.
It has an open, gas grill in the middle, a side bar tap, and an island counter using the same shutter frame. Surrounding it with lush tropical plants, some warm lighting, and white wooden pergola, is all you need for a tropical flair.
Related: 25+ Best Tropical Landscape Ideas and Designs For Small Yards
Industrial outdoor kitchen ideas
Industrial designs are hard to miss because of their minimalism and design versatility. It is often associated with rugged look, metal, and wood but it is generally more flexible than that.
This contemporary industrial outdoor kitchen makes a strong look out of the combo of polished marble, stainless steel, and oakwood.
The brushed stainless steel kitchen wall, adorned with lines of steel cabinetry, refrigerator, steel countertop and sink, and the marble island and sitting area give an air of sleekness and sophistication. These are all softened by the warm wood tones of the oakwood ceiling.
And if you want darker tones, and more upscale features, you can have this matador kitchen on an open floor plan. You get a free-standing steel countertop with a built-in industrial style sink on one side and an adjacent dining set with granite table top and sleek, woven stools. The canned light and concrete shade give it a dignified industrial flair.
For a minimalist look that is fit for a compact but shaded outdoor kitchen, here is a modular style industrial kitchen idea for you to refer to.
With just a beige and gray concrete backsplash and sleek, black tones from the cooking equipment along with simple wood cabinetry, you already have a standout outdoor kitchen that does not take up much space.
Mediterranean outdoor kitchen ideas
Mediterranean designs rely on a rugged, coastal look which includes jagged, unpolished natural stones, wood furniture and painted decorations. If you want an earthy, coastal vibe, here are some Mediterranean outdoor kitchen ideas for you.
This one here looks like a cutout from Mediterranean ruins. Its whimsical, aged effect comes from the use of limestone countertop, granite slabs for the flooring and stacked stones for the structure.
Beyond that, the amenities are chef grade with that stainless steel finish. The farmhouse sink is a good touch and its compactness adds to its magical feel.
For an intimate dining, complete with bar counters, refrigerator, a grill, oven, central TV, and bar tap, this Mediterranean style outdoor kitchen is the best for you.
The stone columns, cobblestone flooring, dark wood pergola, and climbers as ornaments give you some Italian coast kitchen vibe here.
More Outdoor kitchen ideas
1. Rustic White Kitchen with Log Storage
2. Wood Kitchen With Canopy
Source: styleestate.com
3. Modern appliances in the kitchen, stylized antique
4. Summer Kitchen Under a shed
5. Cottage Kitchen
6. How to build an outdoor kitchen
7. Modern Farmhouse Kitchen
8. Stone bar with fire pit
9. Summer Kitchen with a Barbecue
10. Open Kitchen Under a Canopy with Lighting
11. Italian Country Kitchen style
12. Kitchen With Countertop and Log Storage
13. Stone Kitchen With Black Countertop
14. Expensive Kitchen With A Gas Grill
15. Black Chic Kitchen With Lighting
16. A summer kitchen built entirely of stone
17. Rustic Outdoor Kitchen
18. Mud Kitchens from Pallet Wood
19. Food Prep Station
20. Rustic Kiosk Style
21-22. Pallet Outdoor Kitchen
23-26. Slatted wood outdoor kitchen
27. Outdoor Kitchen With Pizza Oven
28. Kitchen Against the wall
29. Cheap Outdoor Kitchen
30. European Outdoor Kitchen
31. Japanese Kitchen style
FAQs
Beyond the list of outdoor kitchen ideas that we have covered, there are also other essentials that you need to know about when and how to construct one and what should be included or excluded in an outdoor kitchen.
How much does it cost to build an outdoor kitchen?
With the assortment of cooking equipment, seating, storage and other basic amenities, outdoor kitchens are priced at an average cost of $1500-3000. More upscale designs which include decking or furnishing a patio and having more elaborate cooking equipment and building design, you need to shell out an average cost of $10000 and above.
Do I need a vent hood for an outdoor kitchen?
Yes. You still need to purchase an outdoor kitchen vent because your cooking equipment still produces heat, smoke, grease, and food chemicals that could fill the air, react with it to produce toxic waste that could be harmful in air circulation and might be the cause of discoloration in your cooking tools, cabinets, furniture, or outdoor kitchen ceiling.
What does every outdoor kitchen need?
Like all other living spaces in the home, there are also expected fixtures that must be found in any outdoor kitchen. These items include the following:
Ample lighting
Wine refrigerator, outdoor refrigerator, or cooler and ice maker
Warming drawer
Grill, griddle, countertop stove, ovens (includes pizza oven)
Bar (bar cart, bar tap, coffee, tea bar, etc.)
Trash cans or compost bins
Seating and dining set
Storage, racks, counters, and shelves
Vent
Shade
Do I need a permit to build an outdoor kitchen?
Generally, a building permit is not required in building an outdoor kitchen because it is not considered as a permanent structure. However, you need to have an electrical and plumbing plan and take into consideration the best interest of neighbors especially that smoke and the aroma from food are expected to be diffused around.
What is the best outdoor kitchen countertop material?
The best choices would be materials that are high heat resistant. Hence, you should be looking for those made of concrete, tile, or enclosed in natural stones. Quartz and glass are questionable materials because they can break and experience discoloration when exposed to high heat or a lot of UV rays.
Does an outdoor kitchen add value to a home?
Yes. Contractors and real estate brokers do not have an exact percentage yet but according to a study done by Absolute Outdoor Kitchen Buyer's Guide, having one generates 100-200% ROI once the property is sold. Drawing from this, building an outdoor kitchen indeed, is worth the investment.
Conclusion
More than the aesthetic value of an outdoor kitchen, its functionality to the home is unmatched. It is like a retreat space for an intimate catchup and cookout with the family and a favored destination by friends and visitors. Perhaps, the only downside to having one is that it truly comes with a price. But given all that we have covered here, all the pros outweigh this major con.
Drawing from the outdoor kitchen ideas that we have featured here, you already know by now that there is no limit to what you can do with yours should you finally go for one. Just make sure that you have all the essential items there and you get the best of time from it once it is done.
References: